Current Drought Monitor Map for Puerto Rico and the U.S. Virgin Islands
United States Drought Monitor
Puerto Rico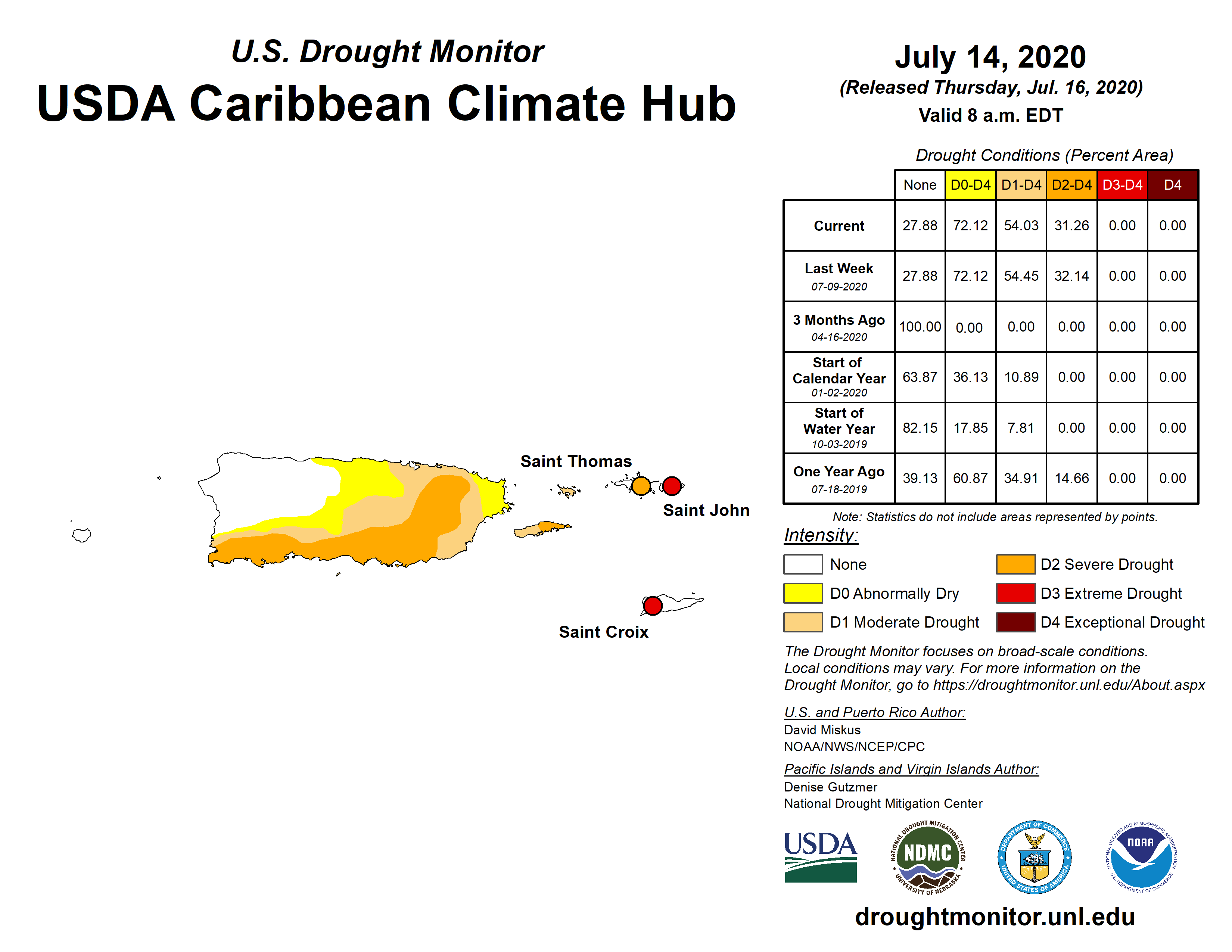 Summary for Puerto Rico this week
The northwestern portion of the island continued to receive moderate to heavy (2 to 6 inches) rains, increasing 60-days surpluses up to a foot in some locations. In eastern sections, 2-4 inches of rain fell, improving D2 to D1 in Las Piedras and Rio Grande provinces, although some large 60-day deficits still remained. Elsewhere, enough light rain fell to keep conditions unchanged.
Related Links
Other Links
U.S. Virgin Islands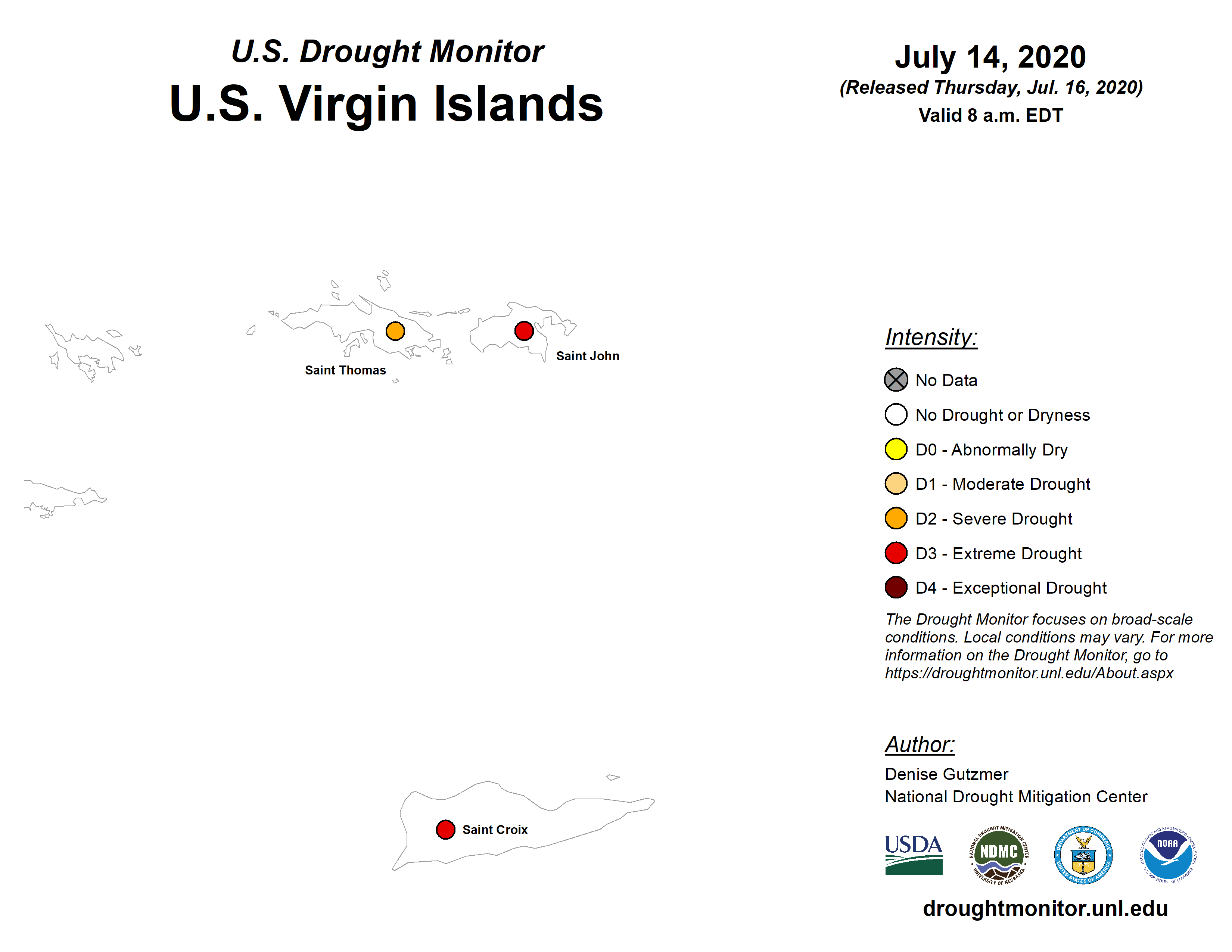 Summary for the U.S. Virgin Islands this week
Radar-based estimates of rainfall for the 7 days ending at 12z on Tuesday in the U.S. Virgin Islands showed largely 1+ inches of rain across St. John and St. Thomas. Rainfall across St. Croix decreased from 1+ inch on the southwestern end of the island to no precipitation on the eastern end.
St. Croix remained at D3-SL this week as rainfall at Henry Rohlsen AP amounted to 0.39 inches, which was below normal. The CoCoRaHS station at Christiansted 1.8 ESE reported 0.40 inches, while Christiansted 4.1 ESE reported only 0.06 inches. The UVI sheep research facility reported 1.09 inches for the week. The USGS Adventure 28 well reported no data due to equipment malfunction.
St. Thomas remained at D2-S. Precipitation at Cyril E. King AP was 1.22 inches, or above normal. The CoCoRaHS stations at Charlotte Amalie 1.4 NE and Anna's Retreat 2.5 ESE reported 1.13 and 1.25, respectively. The Charlotte Amalie 5.1 E station reported just 0.16 inches. The Grade School 3 Well rose nearly one foot from last week and was about 11.29 feet below land surface, following rain this week.
St. John remained at D3-S for the week. The Windswept Beach CoCoRaHS station reported 0.72 inches, while 0.45 inches fell at the CoCoRaHS station at Cruz Bay 0.8 NE, and 0.76 inches was reported at the CoCoRaHS station at Cruz Bay 1.6 E. There was no data from the USGS Susannaberg DPW Well, due to equipment malfunction.
About the Drought Classification
The Drought Monitor summary map identifies general areas of drought and labels them by intensity. D1 is the least intense level and D4 the most intense. Drought is defined as a moisture deficit bad enough to have social, environmental or economic effects.
D0 areas are not in drought, but are experiencing abnormally dry conditions that could turn into drought or are recovering from drought but are not yet back to normal.
We generally include a description on the map of what the primary physical effects are for short- and long-term drought.
S = Drought typically less than 6 months (e.g. agriculture and grasslands)
L = Drought typically more than 6 months (e.g. hydrology, ecology)
Source: United States Drought Monitor
The U.S. Drought Monitor is jointly produced by the National Drought Mitigation Center at the University of Nebraska-Lincoln, the United States Department of Agriculture, and the National Oceanic and Atmospheric Administration. Map courtesy of NDMC.