Current Drought Monitor Map for Puerto Rico and the U.S. Virgin Islands
United States Drought Monitor
Puerto Rico
Summary for Puerto Rico this week
D0-D2 reductions were made in western Puerto Rico, with several locations receiving 2-5 inches of rainfall this week. Many D2 locations along the southern coast of the have seen YTD deficits of 2-5 inches, with pockets of 5-10 inch deficits. Much of the eastern third of the island is seeing 25-50 percent of normal precipitation going back 90 days and USGS 7-day average stream flows are below the 10th percentile for much of the region. It was reported that the San Juan metro area will be implementing water rationing measures to cope with moderate and severe drought conditions in surrounding areas.
U.S. Virgin Islands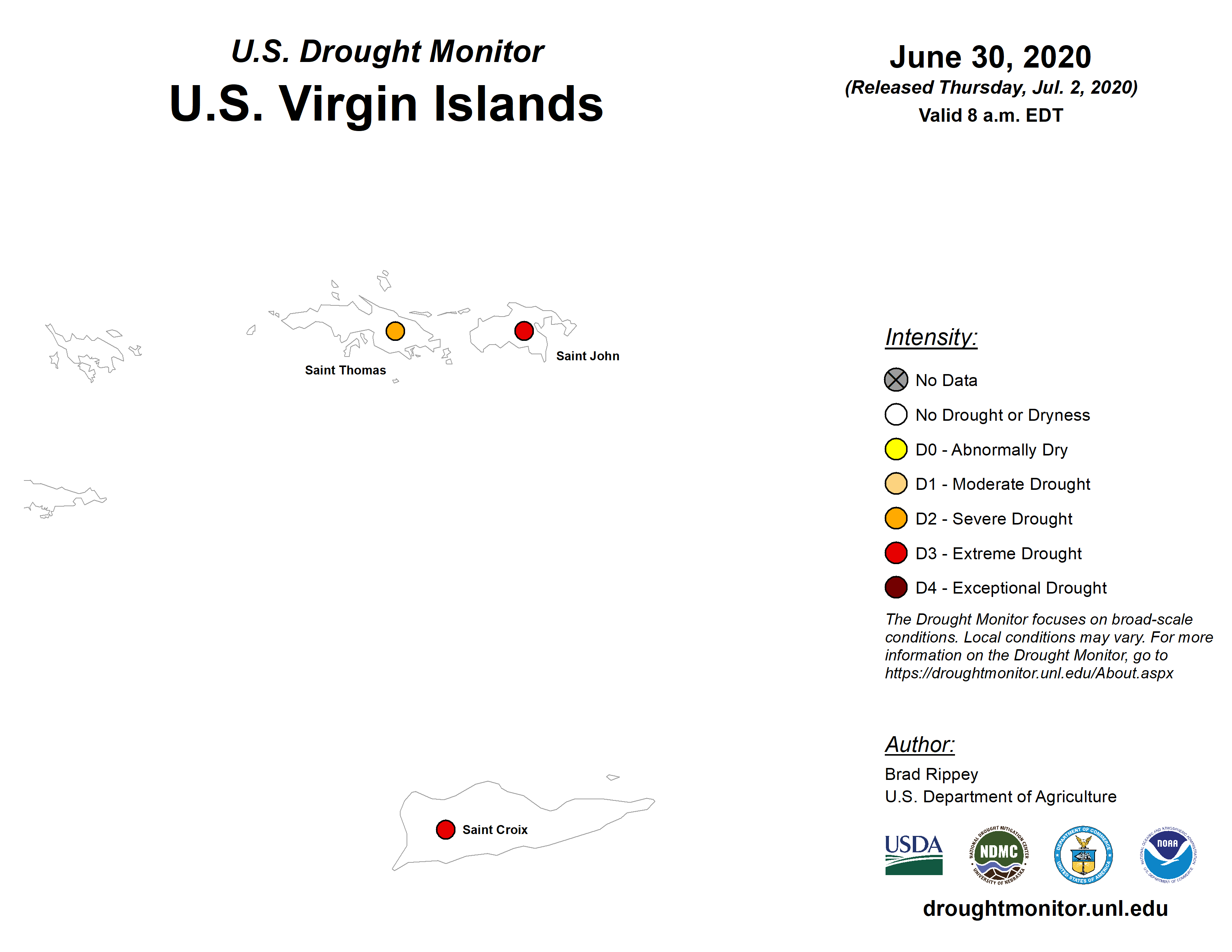 Summary for the U.S. Virgin Islands this week
The weather conditions across the U.S. Virgin Islands (USVI) during this USDM week (6/24/20-6/30/20) were dominated by two competing factors. A large Saharan dust layer moved across the region, bringing dry and stable air which inhibited precipitation. But a couple tropical waves injected moisture and instability at the lower levels, and a nearby upper-level trough and TUTT cell with their divergence aloft enhanced the precipitation which did develop.
Radar-based estimates of rainfall for the 7 days ending at 12z on Tuesday showed bands of 0.5-1.5 inches of precipitation across all three of the USVI.
A sharp gradient in rainfall occurred this week across St. Croix. An inch or more of rain was reported at the Henry Rohlsen AP (1.85 inches) and Christiansted 1.8 ESE CoCoRaHS station (1.02), with nearly an inch observed at the Christiansted 4.1 ESE CoCoRaHS (0.81) and East Hill (0.85) stations. The wettest station was the UVI Sheep Research Facility where 2.91 inches of rain was measured. This brought the monthly totals for June to 2.16 inches at Rohlsen AP, 1.14 inches at East Hill, and 3.36 inches at the UVI Sheep Research Facility. The monthly values for Rohlsen AP and East Hill are still below normal for the month, 94% and 52%, respectively. The last three months now rank as the 9th driest April-June in the 62-year record at Rohlsen and 6th driest out of 47 years at East Hill. But temperatures have been hot. Each day this week was above normal at Rohlsen AP, with record warm high temperatures occurring on the 25th (93 degrees F), 26th (93), 27th (94), and 28th (93). April 1-June 30 ranks as the 2nd hottest such period and June 2020 ranks as the hottest June when the average daytime maximum temperatures are examined. When daily highs and lows are taken into account, June 2020 ties with June 1980 as the hottest June. This week's rain improved the Standardized Precipitation Index (SPI) at Rohlsen AP to D2 levels at the 3-month time scale, but it was still D3 at the 9-month time scale. And observer reports from St. Croix include low or dried up ponds and brown vegetation; farmers have no water or grass to feed cattle. The USGS Adventure 28 well has had no data since April 25, 2020 due to equipment malfunction. The impacts to farmers, and continued 9-month dryness, justified continuation of the D3-SL status for St. Croix.
Over an inch of rain was observed on St. Thomas this week, with King AP reporting 1.59 inches and the CoCoRaHS station at Anna's Retreat 2.5 ESE receiving 1.19 inches. Less than an inch (0.72) was recorded at the Charlotte Amalie 1.4 NE CoCoRaHS station. The rain this week raised the June monthly total at King AP to 2.11 inches, but this is still only 83% of normal. April 1-June 30, 2020, at King AP was the third driest such period on record, but six days were missing. The USGS Grade School 3 well level was steadily declining until the end of May; it has risen about half a foot in since last week, but is still the lowest it's been in the last ten months. The 3-month SPI at King AP improved to D2 level. D2-S continued on St. Thomas.
On St. John, 0.63 inch of rain was reported this week at the Windswept Beach CoCoRaHS station, 0.94 inch at the CoCoRaHS station at Cruz Bay 1.6 E, and 1.22 inches at the CoCoRaHS station at Cruz Bay 0.8 NE. The monthly total at Windswept Beach increased to 1.21 inches, but this is still well below normal – only 43% of the long-term average. The USGS Susannaberg well has been steadily declining since the end of January; last week was the lowest it's been in almost 3 years (9/6/2017 was the last time it was lower), but there is no data this week due to equipment malfunction. The SPI at Windswept Beach improved to D2 level at the 3-month time scale, but worsened to D1 at the 9-month time scale. Considering the continued poor condition of vegetation, D3-S continued for St. John.
About the Drought Classification
The Drought Monitor summary map identifies general areas of drought and labels them by intensity. D1 is the least intense level and D4 the most intense. Drought is defined as a moisture deficit bad enough to have social, environmental or economic effects.
D0 areas are not in drought, but are experiencing abnormally dry conditions that could turn into drought or are recovering from drought but are not yet back to normal.
We generally include a description on the map of what the primary physical effects are for short- and long-term drought.
S = Drought typically less than 6 months (e.g. agriculture and grasslands)
L = Drought typically more than 6 months (e.g. hydrology, ecology)
Source: United States Drought Monitor
The U.S. Drought Monitor is jointly produced by the National Drought Mitigation Center at the University of Nebraska-Lincoln, the United States Department of Agriculture, and the National Oceanic and Atmospheric Administration. Map courtesy of NDMC.